E-Learning is training using a variety of electronic delivery methods such as Webinars, Podcasts, Face to Face live internet training, Video and Computer based courses, etc.
Why might e-Learning be Right for You?
In today's busy world, we are trying to fit more things into our busy day.  E-Learning dog training options are fabulous for busy dog owners.  With just a telephone or web connected device you can log in or call your dog training professional from where ever you are, ask your questions or complete your training and then when done, get right back to what you were doing without missing a step.  No Loading kids and dogs in cars, driving across town and back.  No worrying about getting the house cleaned up to have a trainer come to your home. 
Gone are the days when people must be physically in the same room, or even the same state, to gain the quality dog training they want and need.  E-Learning offers the advantage of convenience, cost savings, comfort and flexibility.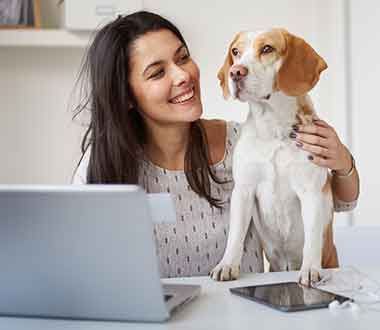 Some Of The Things We Can Help With
Our e-Learning Training Options
Our Remote training options are growing all of the time.  We seek to offer the greatest convenience and flexibility for our clients because we know if training does not fit into the family schedule, it won't get done. 
Today we offer two primary options:  Telephone Coaching and Face to Face Computer Based Video Training.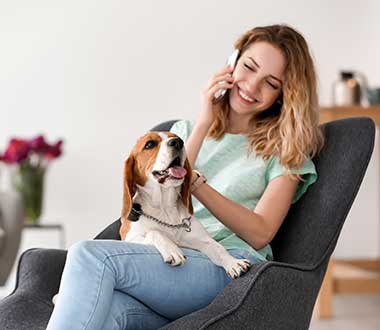 A scheduled call where the professional trainer and dog owners have put aside other activities for the duration of the call so that the dog owner can get the help they are seeking. 
This type of training is less formal and is GREAT for getting simple questions answered by a professional rather than braving the unregulated and often erroneous information posted on Google, shared on Facebook or passed along by well meaning friends, family, etc. 
Telephone coaching is also an effective way to have a more in depth conversation, consultation, regarding a dog's more serious behavior to help determine the best 1st steps in getting together with the dog. 
Cost: $60 per ½ hour to $90 per hour.  (30 min minimum) 
Face to Face Video Training
Whether we live in the same City or Miles apart.  With just an internet connected device and video camera (Cell, Laptop, Stand Alone cameras), we meet each other Face to Face, at least 2 dimensionally, to cover a host of topics ranging from answering questions about why your dog does what he does, helping you through pre-adoption jitters, Puppy preparation and Socialization to Coaching the humans in the house on tactics and tools to get more of the behavior you like. 
Face to Face Video Training is "formal" training the only difference is we meet via camera rather than a trainer coming to your home.  We jointly develop a training plan, we set you up with a shared web folder in our system where training exercises and copies of pertinent information to review and utilize are stored.  I may provide example video for you to review or may ask you to provide video of your training progress. We schedule regular "online" meeting dates as needed to review progress and answer questions and we celebrate your successes. Between our scheduled sessions, you work with your dog based on our conversations; always knowing that you have a resource to help with your questions.   
The difference?  You have the convenience of being able to work with your dog at home or where you need it most, when you are able.  You can work in your jammies, while dinner is cooking or while the baby is down for a nap.  You are the student and you have the undivided attention of your trainer during your sessions to help you gain the knowledge and skills you need to better understand and train your dog. 
And without having to leave the house, you will have more time to do the other things you love.
Cost: 
$90 per session
$265 for 3 session prepaid starter package
$525 for 6 session prepaid basic package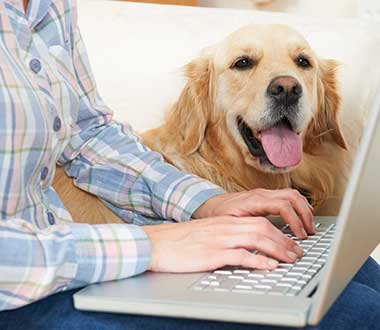 Contact Us
Complete and submit a simple
questionnaire
; we will be notified of the completion of your form and will give you a call to get the ball rolling by the next business day.

Complimentary Consult
We will contact you to set up a complimentary 15 minutes phone conversation so we can learn more about your dog's behavior, to answer your questions and explain our programs to you

Training Plan Development
Once we define the best training options, we will create a training plan, process the paperwork and tuition

Training begins
….easy peasy!